3

min read
In my companion article entitled "Influence Your CEO With WOW And OW! Talent Data" I explained how you can impress your CEO by converting your Talent Acquisition results into dollars.
It's also important to understand that you can't impress a CEO with a large volume of tactical recruiting metrics. Instead, you must focus on metrics that demonstrate a direct impact on what CEO's really care about, the firm's strategic goals. When you shift to this "WOW the CEO" metric model, you need to begin using business impacts as the key selection criteria for determining which metrics to report to senior executives.
The Recruiting Metrics That Reveal the Highest Business Impacts from Talent Acquisition Actions
Here are my top 14 recommended business impact Talent Acquisition metrics for influencing executives, with the most important ones listed first. Obviously, it's important to work with senior executives to determine which of these metrics they would prefer to have reported to them.
1. Revenue per employee ratio
This overall HR metric demonstrates the increasing revenue value that your workforce is creating as a result of good HR and recruiting. And it is easily compared between firms in the same industry to demonstrate that your workforce is more productive than your competitor's. For example, Apple produces an average annual revenue per employee of $1.9 million, Facebook $1.6 million and Google $1.3 million (Note the revenue per employee of all publicly traded companies can be found on MarketWatch.com). An alternative metric is your dollars of profit to labor cost ratio.

2. On-the-job performance of new hires (Q of H)
The most important foundation metric is the quality of hire. Using golf as an example, a quality of hire measure would be last year's golf team's new-hires scored an average of 70… while this year's hires scored 63, an improvement of 10%. There is no more important overall Talent Acquisition metric than the quality of hire because it reveals that you are in fact hiring better performers. But also because the quality of hire measure can be used to validate your hiring criteria and to assess the effectiveness of each element of your hiring process. The one single metric that should be used in the calculation is the percentage improvement in on-the-job performance of new hires compared to previous years.
3. The total estimated $ impact of recruiting on the business
Work with the CFO's office to convert your quality of hire/on-the-job performance improvement of new hires into dollars. The simplest conversion metric is multiplying the percentage of improvement by the average revenue per employee.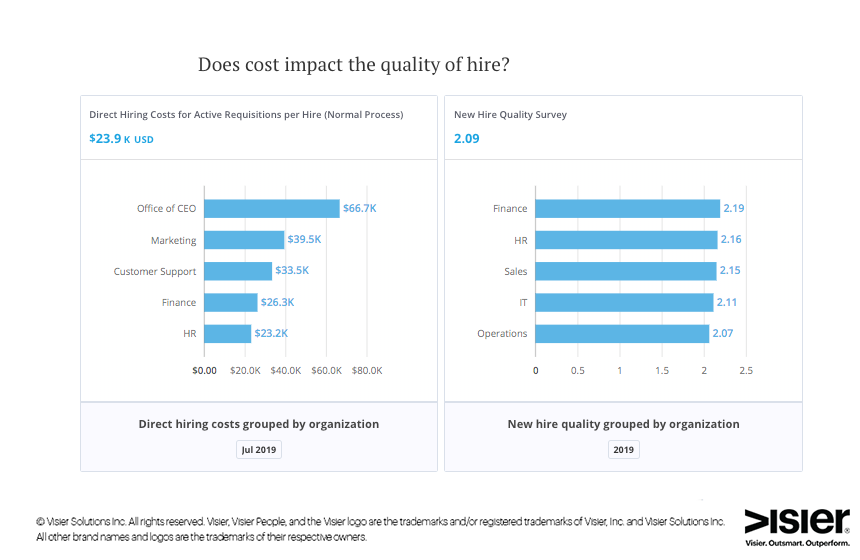 4. The percentage of new hires that become innovators and top performers
It's important to report the percentage of new hires that turned out to be top performers (in the top 10%) and innovators. And then to work with the CFOs office to calculate that dollar value.
5. Hiring top talent into prioritized jobs
It's critical that Talent Acquisition identifies the positions with the highest business impact and then to focus its recruiting resources on those prioritized jobs. Start with prioritizing revenue-generating positions because they have the highest measurable revenue impact. Then report the quality of hire, revenue generated, diversity, position vacancy days and the retention rate of new hires in these prioritized jobs.
6. Hiring top diversity talent into "customer and product impact jobs"
The goal is for the diversity percentages of your employees in your customer and product impact jobs to reflect that of your customer base. Then work with the CFOs office to calculate the dollar impact of increasing diversity in those jobs.
7. Excess position vacancy days in prioritized/revenue jobs
Excess vacancies in priority jobs reduce the likelihood of meeting business goals. Be sure and first track excess (the number over target) position vacancy days in revenue-generating jobs because their impact is more immediate and it is easily measurable. Next, calculate the excess vacancy days in prioritized jobs. Work with the CFOs office to put a dollar amount on the lost revenues because of a slow hiring process.
Click here to continue reading John Sullivan's article.