3

min read
Top performing companies have been quick to identify talent as a critical competitive differentiator. No wonder, costs associated with talent management have evolved from being considered as a business expense to long-term strategic investment, bringing to the fore questions like:
How to forecast the demand and supply of talent in short and medium term?
How to attract and retain best-in-class talent?
How to manage the ever-increasing total cost of workforce?
How to keep a focus on the development of key talent?
How to engage an increasingly diverse and globalized workforce?
Determining an optimal workforce mix to deliver maximum value to stakeholders?
In order to answer these questions, the human resources (HR) function is rapidly learning not to rely on their gut feelings to determine their next decision impacting talent – whether it is to do with forecasting demand and supply of talent or identifying, recruiting, developing, and retaining the right people.
Combined new capabilities of human and machines put together are changing the way we work and with that the employer-employee relationship in a more fundamental way than ever before, driving organizations to adopt a more "scientific" approach to decision-making around people.
Enter Talent Analytics and Workforce Planning!
Though organizations understand the importance of talent analytics, many are grappling with even the most basic questions of where and how to start the process.
Now, it is not uncommon for companies and brands to use big data to improve customer experience and business. For example, online e-commerce business platforms analyzing shopping patterns and preferences to predict consumer behavior. It has truly revolutionized the way companies reach and target their customers.
Similarly, today organizations collect multiple data points on employees and use it to design and define people policies and decisions. An HR analytics maturity model such as the one illustrated in figure 1, can bridge the understanding of an organization's current state and determining future vision in this area.
This HR analytics maturity model, developed by Willis Towers Watson, has six levels of maturity outlining how an organization evolves from "Reactive Reporting" to "Predictive Analytics." We have observed that the ROI on decisions taken on "Predictive Analytics" is exponentially higher than decisions taken using "Reactive Reporting."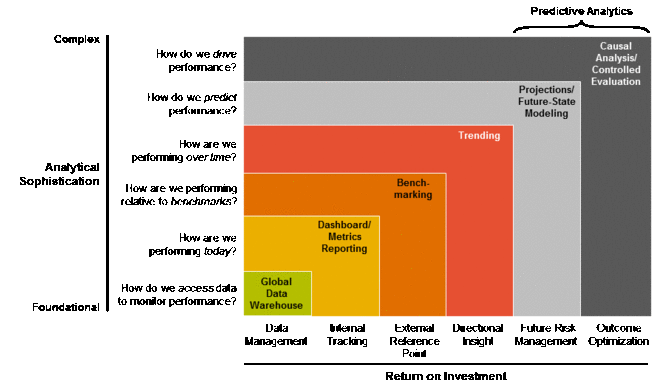 Predictive analytics, the science of using data and statistics to predict likely outcomes, is emerging as a high-interest area, yet only 3% organizations are currently leveraging it for making people decisions. Lack of skills to fully leverage the value of talent analytics is a big challenge faced by companies in India.
Progressive companies are using predictive analytics to add tangible value to their stakeholders, employees, and management.
While creating a predictive analytics capability, it is very important that an organization first understand the key people-related challenges that the model is trying to solve. Often, companies want to run exploratory predictive analytics to assess whether there are any people related issues.
However, organizations should first understand the business issue and then design a solution around it — rather than try to fit an existing solution into an unidentified problem.
Click here to continue reading Neeraj Tandon's article.