4

min read
Gartner's 2018 CIO Agenda states that CIOs must "remix" the job they do and "continue to be transformers."
For some IT leaders, this might bring to mind images of self-configuring robotic lifeforms. Others may just dismiss the term "transformer" as a vague description for somebody who changes something into something else.
But in the IT/business context, a transformer refers to a tech leader who enables "business transformation" — a definable process with concrete outcomes. Think about Netflix's move from a mail-order DVD business to an online streaming service or Amazon's foray into cloud computing and retail. These kinds of transformations are becoming more common: With the shrinking lifespan of established firms, businesses must disrupt or be disrupted, and IT leaders have a critical role to play.
Business Transformation: The Role of People Analytics
One of the most important responsibilities for IT leaders in supporting business transformation is delivering people analytics. Transformation requires companies to change products, competitors, and performance measures, but the people themselves have to transform if the firm wants to be disruptive. People need to alter their skillsets, how they collaborate with other people, and even how they think and behave.
People analytics delivers value by enabling organizations to quickly answer pressing questions that are essential to transformation: Where do we invest in L&D programs so as to have the biggest impact? What kind of new hires will propel our new business model forward? Who are the real experts within our organization who can deliver on this vision? How can we build teams to get the results we want?
And timing is everything. Companies have to strike when the market, ecosystem, and customers are ready. Move too late and they'll be eating competitor's dust. As a digital transformation expert writes in this CIO post, timing "on any transformation governs its success."
This means that, when it comes to delivering people analytics as an enabler of business transformation, the main question for IT is: how do we deliver the best time-to-value?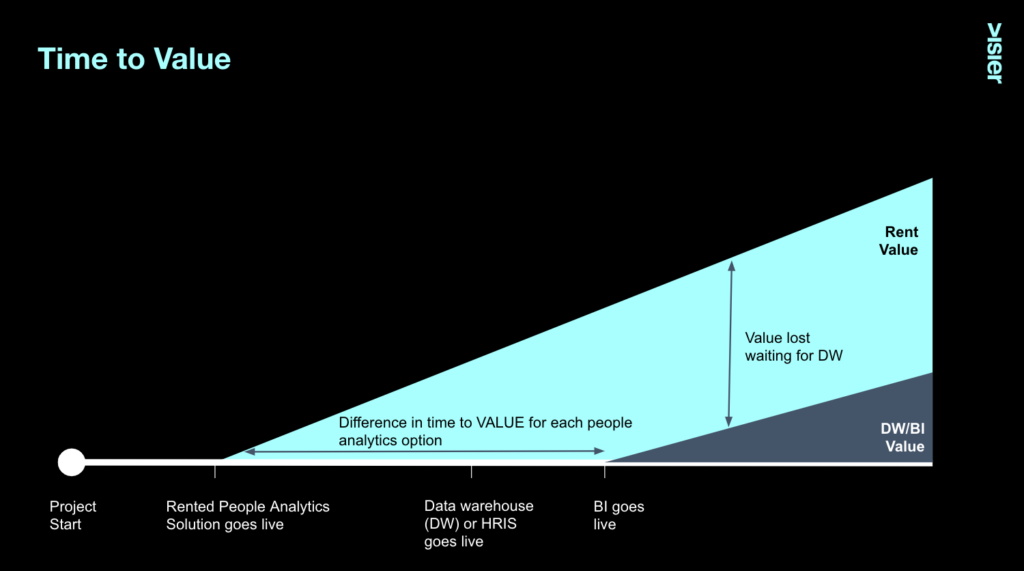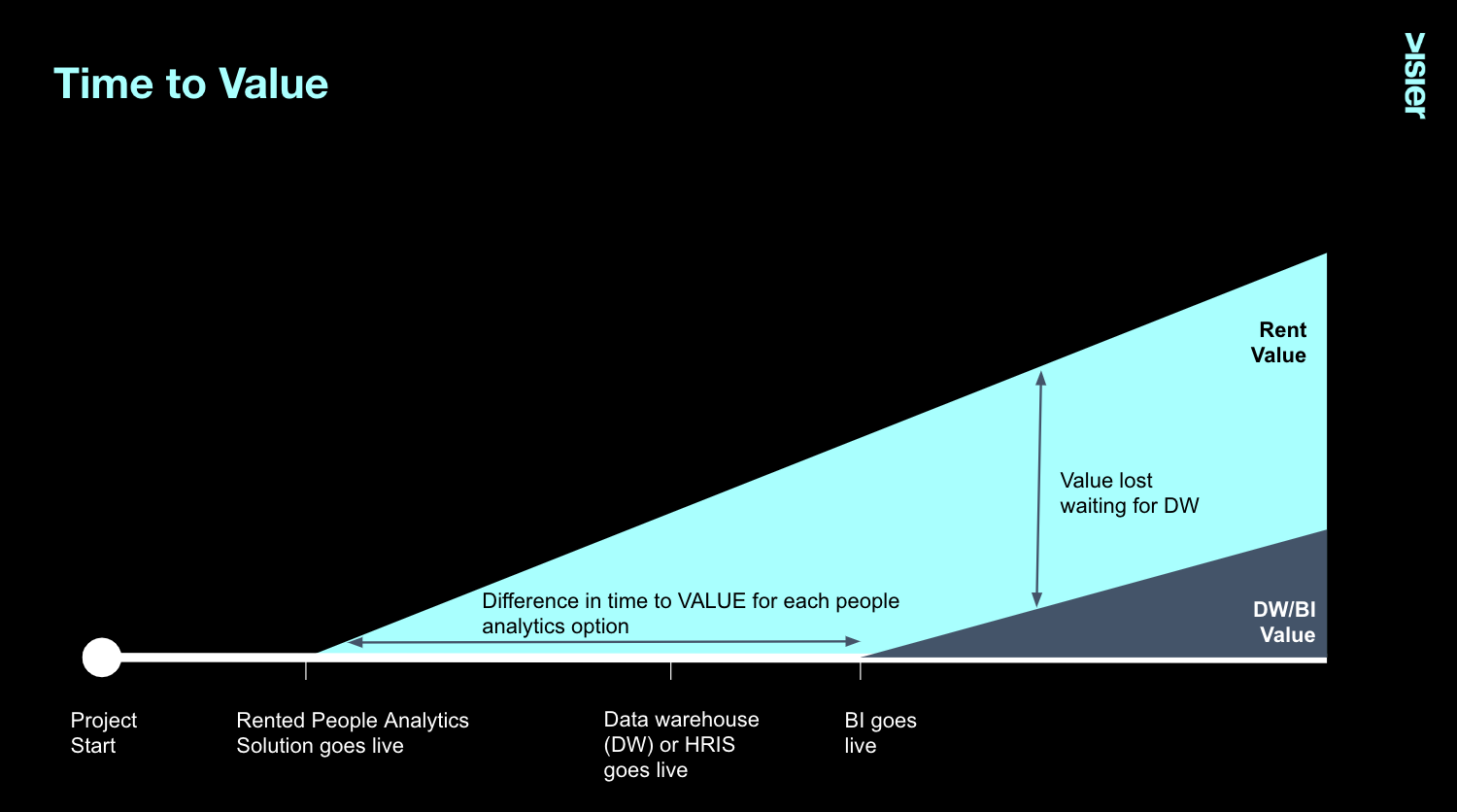 Build vs. Rent: Evaluating Time-to-Value
There are two main ways to deliver people analytics. The first is to build a solution from the ground up using BI tools. The second is to rent a people analytics platform that comes with pre-built content. Here is a look at how both options stack up in terms of time-to-value:
Effort and Results
When building a people analytics capability in-house, IT needs to create a data extraction tool, data storage system, analytic engine, report writer, a visualization tool, secure sharing system, and more.
It then needs to apply all of these to the often messy and complex data that pervades all aspects of HR — all with an HR team that itself struggles to express the challenges they have and how data can help.
When all this is said and done, it typically takes over a year to build even a basic solution. However, an analytics platform that comes with pre-built content can be up and running within weeks, and can provide guidance to the HR team on what they should be leveraging.
Even if the data warehouse exists, HR analysts, data scientists, and IT staff must still find ways to help decision-makers extract meaningful value from the warehouse. This process has always been time-consuming and error-prone for any analytics journey, and with HR data errors, it can have a real and immediate impact on people (not to mention the requirements for highly specialized and in-demand skills).
In fact, many HR analytics teams are so consumed with just getting the data out that they do not have time to interpret the results. With a pre-built analytical solution, all that effort is removed, and much of the regular content is simply ready to serve.
Questions Lead to….More Questions
When analytics are provided to stakeholders, this only leads to new questions and a desire for moreanalytics. This means that the people analytics strategy does not have a completion date and that the strategy must be ready for constant growth and expansion.
Let's just think about a single typical scenario for people analytics: IT gets the requirements from HR that they need to deliver turnover insight (which alone can be a long, drawn-out activity to prioritize the metrics and get agreement from all stakeholders on its definition). IT builds — with a lot of time and effort — a data model, analytic engine, queries, and visuals.
18 to 24 months later the organization finally has its turnover insight, and those questions answered.
But now HR has new questions around turnover: Could a new compensation plan help? They changed their performance review process in the meantime–did that make a difference? Is there a difference between minority groups?
Click here to continue reading Adam Binnie's article.